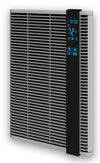 [click for larger image]APPLICATIONS
Fast heat response and programmable touch screen built-in thermostat make the SmartSeries™ heaters ideal for dens, basements, converted attics and breezeways, garages, large bathrooms, offices, workshops and similar areas. They're also adaptable to multiple installations in larger or odd shaped rooms.

FEATURES
Heater automatically adjusts wattage output and blower speed resulting in whisper quiet operation for optimum comfort. Heating element is heavy duty non-glowinng steel fins brazed to steel sheathed tubular elements in a grid pattern that covers the entire discharge area. Built-in fan delay operates when unit is turned off after heating to prolong element life. 5/2 day electronic programmable built-in thermostat adaptable to fit any life style while providing energy savings and precise temperature performance.

Whisper Quiet
Operation

Fast Response
Heating

5 Year Element
Warranty

Proportional Wattage Adjustment
Heats up to 200 ft2

Easy to use LED touch screen operation.
Convenient remote control included.
Contemporary, clean design with night light feature complements any decor.
Designed for easy installation. Heater is mounted prior to wiring. Both hands are free to make field connections in roomy compartment.
This heater is designed for installation in 2 x 4 or larger wall sections using the wall box provided.
The heater may be wired with standard building wire (60°C). Refer
to specification chart for correct supply voltage and wire size.
BERKO/QMARK Model #

VOLTS

AMPS

WATTS

BTUHR

WIRE SIZE

HT2024SS

240

1.0 – 8.3

250 – 2000

853 – 6826

14 AWG

HT1502SS

120

1.6 – 12.5

200 – 1500

682 – 5120

12 AWG

SURFACE MOUNTING FRAMES
SMHTSSNW
Northern White Surface Mounting frame 14-5/8″W X 20-1/4″H X 3-3/4″D
SMHTSSBL
Black Surface Mounting frame 14-5/8″W X 20-1/4″H X 3-3/4″D
Note: Standard grille color is gray. Add NW suffix for Northern White. Example: HT2024NW.